Absoft News
Fastcards Successfully Deployed RFID Crenetial Management for World Youth Day 2008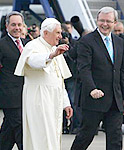 Over 30,000 workers, volunteers, performers and clergy were accredited for World Youth Day enjoying an efficient and secure access to all events
Sydney, Australia October 08 - World Youth Day 2008 has been a successful event for young Catholic pilgrims of the world from age 16-35 which took place in and around greater Sydney from 15th July 2008 to 20th July 2008. The event culminated with a peak attendance of almost 500,000 people at the final mass in Randwick.
In what was a world first for the Sydney WYD Organisation, RFID technology was implemented at the event across multiple operating sites. Over 30,000 RFID embedded credentials were used during the event. The ID Solution from Fastcards, a Syscan International Inc subsidiary, also catered for the production and management of Vehicle access passes and day passes. The solution included a mobility application running on Rugged PDA Style Computers with inbuilt RFID readers, enabling in field verification of credentials especially within high security access zones.
A customized web based solution, secured through the WYD08 Organisations VPN, operated at multiple sites during the event issuing credentials where demanded. Credential information was generated through the WYD08 Egeria 2 solution where background check information was stored. Credentials were only passed for production through the Fastcards solution once the background check elements had been accepted.
A pre-encoded and uniquely printed RFID smart label from Alien Technology, enabled people to check in easily and quickly as the crowd was going through the portals built with Alien antennas smoothly.It proved to be an excellent crowd management system, helping to regulate traffic volume and automating the credential verification process. Every person not allowed on site was identified on LCD Page | 20
Screens at the check-in points and WYD08 Staff had a clearly identifiable person to assist in checking their access rights.
Every person had on their pass, different access codes corresponding to a number of defined zones and events. They were organized in a way to also facilitate visual control. Special secured zones were created and visual control was reinforced with random control with handheld readers.
"This major event has path the way for use of RFID in the future for anti-counterfeiting, time management and workforce / contractor verification" says the solution provider Scott Austin, CEO of Fastcards, a Syscan International Inc subsidiary. "We had at one time 7 Remote Accreditation Centres and Work Force Portals operating across Sydney and the product worked extremely well despite the huge number of RFID credentials that needed to be produced on the spot."
"We were able to come on board the Accreditation team with a very competitive and efficient web database solution that complied to all WYD08 requirements thanks to our experience with Maritime Security Identification cards, BHP Billiton Mitsubishi Alliance RFID deployment and other projects" says Scott Austin.
"Involving RFID in our process has proven its efficiency. Throughout the preparation of the event, both teams have worked closely to find the best way to create an access control pass common to all users but having different access rights. Different levels of access were created to accommodate different locations, special events and zones of restrictions. All information was introduced into the WYD data base and transferred to the Fastcards-WYD database developed according to WYD needs" comments Ian Steigrad, Director, Event Planning & Operations.
RFID was essential to fulfil WYD requirements and Fastcards provided an efficient, cost effective, customized solution based on their previous internal development. Event organizers can rely on a well experienced team and a complete solution for complex events with multi-facets.